Consider having Greg Larson speak at your next event!
Do you want to know how a better understanding of the human brain can greatly improve the power of your communications?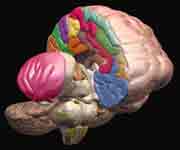 New technologies have enabled mankind to map and research the living human brain like never before. The human brain is finally starting to unlock many of the mysteries of itself and how it works.
One of the central functions of the 3-pound miracle that is the human brain, is communication—communication both within ourselves and amongst ourselves.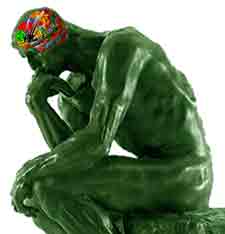 Understanding how the various parts of the brain take in and process information, and how these various parts can create new "wetware" that are the genesis of all human achievement, can empower us in all of our thinking, planning, deciding, acting, and relating with others.
Greg will open up these understandings to you.
Greg's writing and speaking specialties are
synthesizing research and knowledge that may not have previously been sewn together, (producing exciting new insights) and

turning important but abstruse concepts into easy-to-understand, easy-to-apply practical knowledge.



What is Greg's Speaking Style?
You would expect that someone who teaches other people how to speak and present effectively (in his Impact Your Audience! workshops), can showcase what he teaches.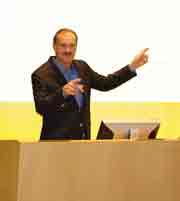 Well, with Greg you won't be disappointed. His main goal is to give his audience a meaningful, rich, and engaging experience. To do this, he connects with the members of his audience with presentations that are:
tuned-in to the audience
provocative
entertaining
motivating
interactive
fun
memorable
filled with understandings not gained elsewhere

Greg's Speaking Topics? Everything Communication
You can find more information about two of Greg's current subjects, The Language of Whole Brain Leadership and The Art of Whole Brain Presentations at their pages on this site. However, if you have another area of communications you would like Greg to address, contact us about what you would like.
For more information on Greg's speaking, or any of his other writing or services, please contact us.
Home l Writing l Speaking l Workshops l Consulting l About Greg l Contact Greg

Greg Larson Communications • All Rights Reserved • © 2010