"In business, communication is everything."
Robert Kent, former dean of Harvard Business School
Non-fiction & Writing for Business
Communicating effectively is critical for any organization.
To be effective, any business communication—whether written or oral—must be clear and, above all, persuasive. Even "informational" communications must persuade the audience of their veracity.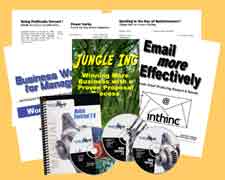 Because of his years of experience in writing for businesses and teaching business communications, Greg can work with you to either write your copy (sales, advertising, information, etc.) or coach you and your staff in producing more effective writing.
Contact Greg about the possibility of working with you or your staff on your writing projects.
Home l Writing l Speaking l Workshops l Consulting l About Greg l Contact Greg
Greg Larson Communications • All Rights Reserved • © 2010